A Summary of Important Themes
Conference 2014 Closing Session
Thupten Jinpa closes the 2014 Translation & Transmission Conference with a summary of important themes emerging from the four days of thoughtful interaction. Broadly, these include translation, transmission, and the combination of the two, and most significantly, the developing sense of community among those working diligently to present Tibetan Buddhism to the West.
Event: TT Conference 2014 – Closing Session
Date: October 5, 2014 – 1:00 pm
Speaker: Thupten Jinpa
Topics: Intention, Translation, Transmission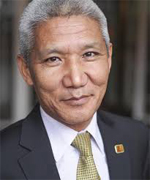 Thupten Jinpa
Institute of Tibetan Classics
Thupten Jinpa, PhD, received his early education as a monk and obtained the Geshe Lharam degree from Ganden Monastic University in South India. He holds a BA in philosophy and a PhD in religious studies, both from Cambridge University. Jinpa is an adjunct professor at McGill University. He is associated with the Center for Compassion and Altruism Research and Education at Stanford University, and is the main author of its Compassion Cultivation Training program. He is the board chair of the Mind and Life Institute, the founder and president of the Institute of Tibetan Classics, and the general editor for The Library of Tibetan Classics. Since 1985 he has been the principal English translator to H.H. the Dalai Lama. Jinpa's published works include translations of numerous books by the Dalai Lama, Songs of Spiritual Experience, Mind Training: The Great Collection, and The Book of Kadam. His Tibetan publications include a first ever introduction to Buddhism in vernacular Tibetan and a comprehensive modern Tibetan grammar. Most recently, he co-translated Grains of Gold by Gendun Chöpel.